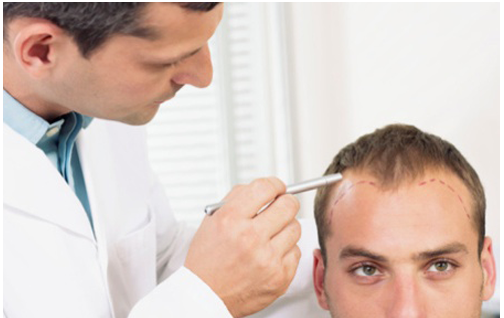 The method of Hair fixing in Headz is very simple and gentle. Headz uses American Technology for hair fixing services. Natural hair is weaved meticulously on to a polymer based non-natural scalp. This is called as Hair System or Hair Patch or Hair Piece or Toupee which is fixed to the hair lost portion of the head using the following techniques.
We offer four types of hair fixing services, based on customer needs for both men and women
Hair Bonding: We use the best imported dermatologically tested adhesives(gum) to paste the hair patch to the bald portion of the head
Hair Weaving: We will make a knot weft in the existing hair strands of the customer. The hair patch will be then weft meticulously to that knots.
Hair Clipping: Hair extension locks(clips) will be fixed under the hair patch and will be interlocked with the existing hairs of the customer.
Hair Extensions: We offer permanent (micro ring hair extensions) and temporary (Removable daily wear hair extensions).
After hair fixing, customers can swim, travel in open vehicle and do any type of work. Surgery is not required as hair fixing is free from allergic complaints and does not involve hair transplantation. People from 15 to 80 years of age are approaching Headz for hair fixing services. People are interested in hair fixing because it does not affect their daily routine. Customer has spend only two hours for the whole process. Headz also offers hair extensions for women of all lengths, colors and styles.
Baldness is a widespread dilemma in this modern era. We know the importance of hair in grooming a person's personality. Due to hereditary, climate, diseases, way of living, stress and strain, hair fall is very common these days and there are no effective medicines to prevent this. Headz Hair Fixing is a real solution for those people who are suffering from such hair loss problems.
Hair fixing can be done even for diabetic patients and those who lost their hair after chemotherapy treatment also. Like men, women can also avail this hair fixing technique
The maintenance period for the techniques are
1. Hair Clipping – No maintenance required
2. Hair Bonding – Monthly once (it can be done by yourself also using Do It Yourself Kit))
3. Hair Weaving – Once in 2 months
After hair fixing, look will be 100% Natural & Undetectable
Hair Fixing cost depends on the extent of the hair loss and bald head area. It also depends on the quality of the hair system you choose. Call or WhatsApp +91 98866 11110 for cost and free consultation