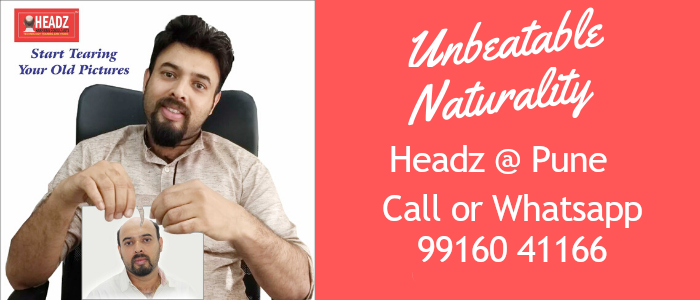 Headz Hair Fixing in Pune:
Headz hair fixing method is free from all kinds of side effects as it fixes natural hairs to the scalp and look original.
Services we offer are hair bonding / clipping / weaving / extensions.
Hair Fixing is done in 3 different techniques
We will select a suitable hair system (hair patch / hair Piece / Toupee) based on the size of the bald portion, texture and color of the hair. We use custom made, imported and natural Hair systems
1. Hair Bonding:
We use the best imported dermatologically tested adhesives(gum) to paste the hair patch to the bald portion of the head.
2. Hair Clipping:
Hair extension locks(clips) will be fixed under the hair patch and will be interlocked with the existing hairs of the customer.
3. Hair Weaving:
We will make a knot weft in the existing hair strands of the customer. The hair patch will be then weft meticulously to that knots.
Hair Extensions for Women:
Headz comes out with some great news for women. Don't spoil your existing hair with colours , curls, perming , straightener, heating ….. just go with natural human hair extensions to have stylish gorgeous hair .
We offer permanent (micro ring hair extensions) and temporary (Removable daily wear hair extensions).
We have hair extensions of all styles(Straight, Wavy and Curly), colours and lengths.
You name the style, color and length, you have it custom made suitable to your hair colour and texture.
Hair fixing Videos:
Watch our hair fixing videos at https://www.youtube.com/headzhairfixing/videos
Maintenance / Service:
The maintenance period for the techniques are
1.Clipping-no maintenance required
2.Hair Bonding-Monthly once (it can be done by yourself also using DO It Yourself kit)
3.Non Surgical Hair Weaving-once in 2 months
The look will be 100% Natural
After hair fixing in pune, customers can swim, travel in open vehicle and do any type of work. Surgery is not required as hair fixing is free from allergic complaints and does not involve hair transplantation. People from 15 to 80 years of age are approaching Headz for hair fixing. People are interested in hair fixing because it does not affect their daily routine. Customer has spend only one hour for the whole process. Plenty of air passage holes like human skin pores provide abundant air circulation that prevent heat. Headz also offers hair extensions for women of all lengths, colors and styles.
Headz Hair fixing in Pune Addresses:
Sairam Apartment, 402, 4th Floor,
Neena Housing Society, Opp. Vanaz Company,
Paud Road, Pune, Maharastra – 411038.
Mobile: 99160 41166
Email: contactus@headzhairfixing.com